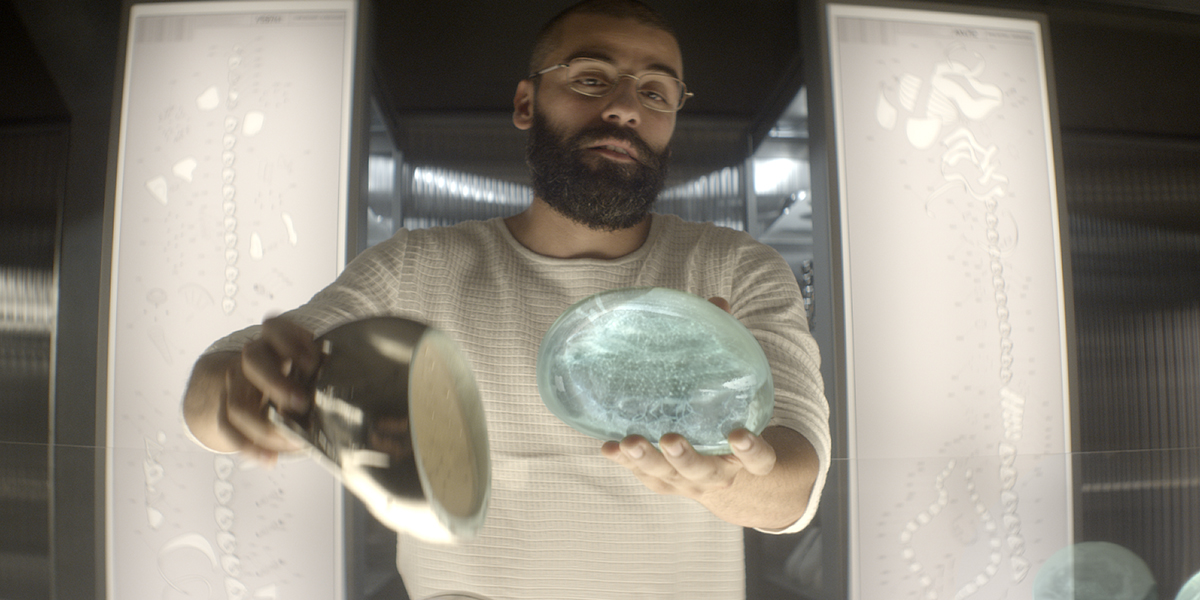 VFX Brief:
To create a CG brain for AI robot protagonist Ava; a 'look' for Ava's point of view and a range of 2D shots for Alex Garland's Ex-Machina, working closely with Double Negative.
Number of shots: 100 shots
Size of crew: 28
Duration of production: Dec 2013 – May 2014
Scope of work:
Milk's biggest scene was the design and creation of a CG Ava brain, which is seen during the conversation between Nathan and Caleb in the construction lab. Milk was also tasked with devising a look for AI robot Ava's point of view – seen at the start of the film when lead character Caleb wins the office lottery and in the bathroom scene. A range of 2d shots also included simple clean ups and monitor inserts.
Ava's Brain:
For the design of Ava's brain, Milk was briefed to use jelly fish references while incorporating a computerized 'tech' feel in its design. Using Houdini, the build was fully procedural with strong emphasis on the ability to quickly choreograph and combine major features to reduce the turnaround of versions during lookdev. Starting from a sculpted core mesh, a complex set up was built to create the main features of the brain – including frills, tentacles, pores, antennas, wireframe cages and air bubbles. The Milk team opted for a noise driven animation over simulations in order to avoid having to rig and animate each shot separately. Collisions were solved by post deforming wires and meshes using volume collision approaches where necessary. The resulting brain asset was then brought into Maya for shading and lighting using Arnold and finally composited in nuke.
Director
Alex Garland
Producers
Andrew Macdonald & Allon Reich
Production Companies
Film4 & DNA Films
Distributors
A24 & Universal Pictures International
Milk VFX Supervisor
Sara Bennett
Milk VFX Producer
Nick Drew
Release Date
16 December 2014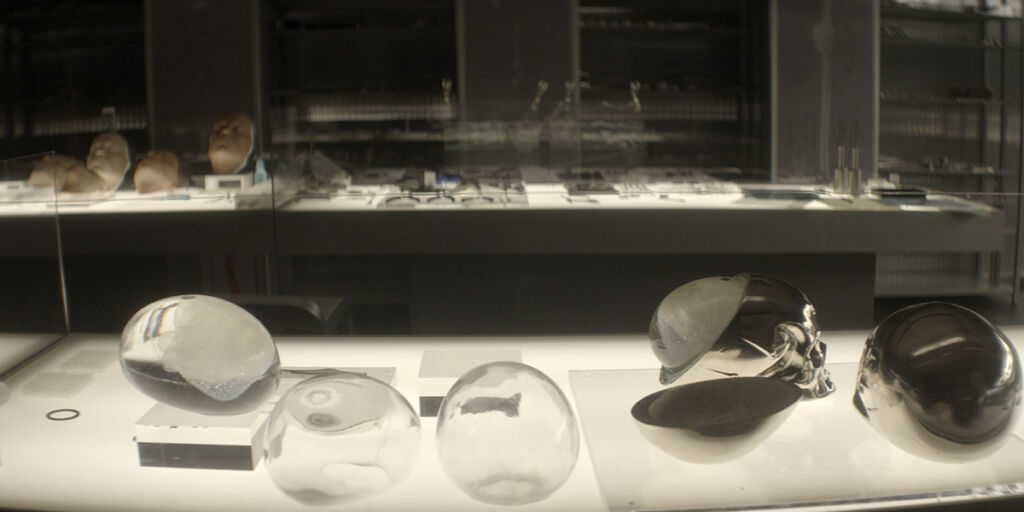 We all made this happen…
This team of amazing people made this happen. Join our lovely community to work on the most exciting projects with our amazing people.
Nick Drew
Sara Bennett
Nicolas Hernandez
Natalie Reid
Mariangela Suma
Collette Nunes
Stefan Brown
Amy Felce
Joe Tarrant
Noel O'Malley
David Jones
TJ Singh
Luca Zappala
Jan Schubert
Dominic Alderson
Eleanor Sutton
Matthew McDougal
James Moxon
Clement Hingrai
Henning Glabbart
Iyi Tubi
Luan Hall
Luka Leskovsek
Neil Alford
Sarah Iduwe
Vasco Cerqueira
Elisa Simoncelli
Nick Drew
Sara Bennett
Nicolas Hernandez
Natalie Reid
Mariangela Suma
Collette Nunes
Stefan Brown
Amy Felce
Joe Tarrant
Noel O'Malley
David Jones
TJ Singh
Luca Zappala
Jan Schubert
Dominic Alderson
Eleanor Sutton
Matthew McDougal
James Moxon
Clement Hingrai
Henning Glabbart
Iyi Tubi
Luan Hall
Luka Leskovsek
Neil Alford
Sarah Iduwe
Vasco Cerqueira
Elisa Simoncelli
Nick Drew
Sara Bennett
Nicolas Hernandez
Natalie Reid
Mariangela Suma
Collette Nunes
Stefan Brown
Amy Felce
Joe Tarrant
Noel O'Malley
David Jones
TJ Singh
Luca Zappala
Jan Schubert
Dominic Alderson
Eleanor Sutton
Matthew McDougal
James Moxon
Clement Hingrai
Henning Glabbart
Iyi Tubi
Luan Hall
Luka Leskovsek
Neil Alford
Sarah Iduwe
Vasco Cerqueira
Elisa Simoncelli
Nick Drew
Sara Bennett
Nicolas Hernandez
Natalie Reid
Mariangela Suma
Collette Nunes
Stefan Brown
Amy Felce
Joe Tarrant
Noel O'Malley
David Jones
TJ Singh
Luca Zappala
Jan Schubert
Dominic Alderson
Eleanor Sutton
Matthew McDougal
James Moxon
Clement Hingrai
Henning Glabbart
Iyi Tubi
Luan Hall
Luka Leskovsek
Neil Alford
Sarah Iduwe
Vasco Cerqueira
Elisa Simoncelli
Nick Drew
Sara Bennett
Nicolas Hernandez
Natalie Reid
Mariangela Suma
Collette Nunes
Stefan Brown
Amy Felce
Joe Tarrant
Noel O'Malley
David Jones
TJ Singh
Luca Zappala
Jan Schubert
Dominic Alderson
Eleanor Sutton
Matthew McDougal
James Moxon
Clement Hingrai
Henning Glabbart
Iyi Tubi
Luan Hall
Luka Leskovsek
Neil Alford
Sarah Iduwe
Vasco Cerqueira
Elisa Simoncelli