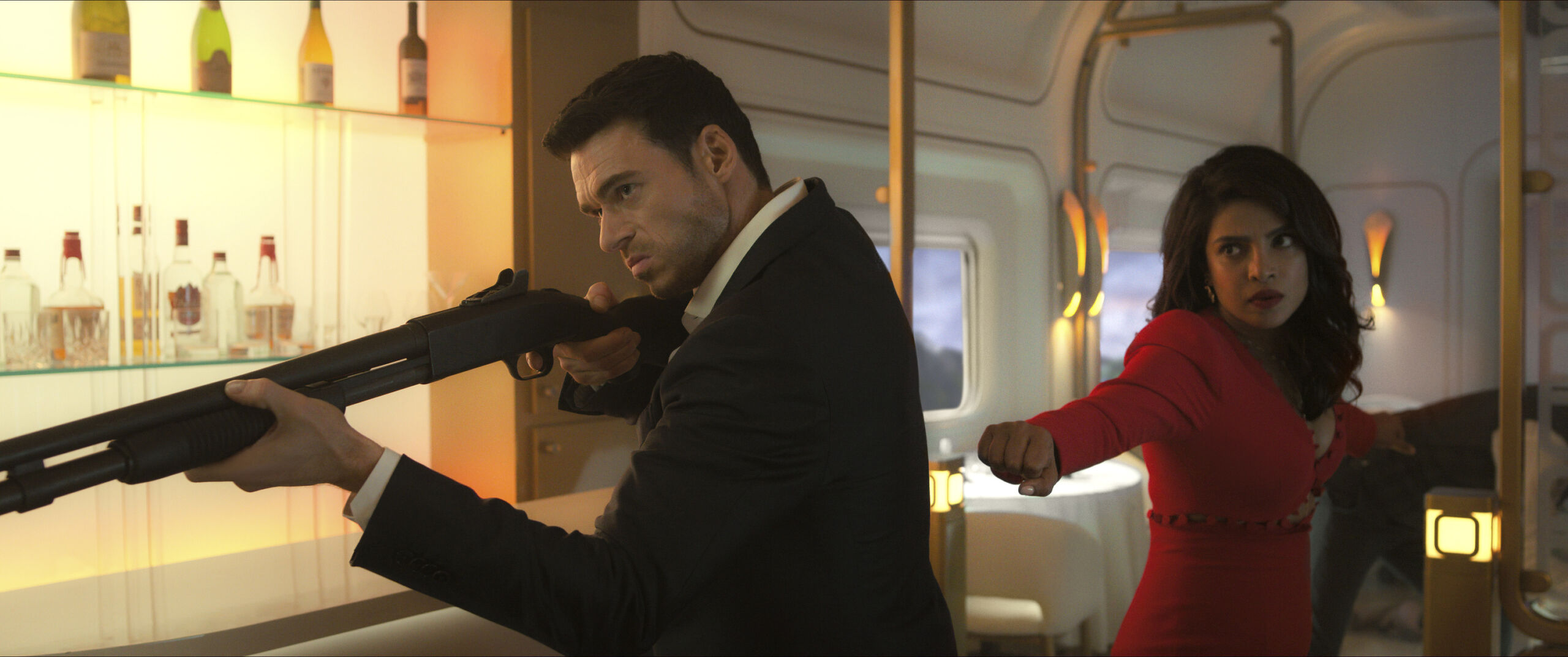 Milk has created VFX for Citadel, an exciting new 6 part science fiction action thriller television series created by David Weil for Amazon Prime Video, with the Russo brothers acting as executive producers. It stars Richard Madden and Priyanka Chopra Jonas as Citadel agents Mason Kane and Nadia Sinh.
Directors
Newton Thomas Sigel & Jessica Yu
Production Companies
Gozie AGBO, Midnight Radio, PKM, Picrow & Amazon Studios
Distributor
Amazon Prime Video
Milk VFX Supervisor
Ciaran Crowley
Milk VFX Producer
Marie O'Brien
Release Date
28 April 2023
We all made this happen…
This team of amazing people made this happen. Join our lovely community to work on the most exciting projects with our amazing people.
Ciaran Crowley
Andres Tollar
Joseph Courtis
Marie O'Brien
Rachel Hopson
Honor Martin
Chloe Begtine
Sarah Mason
Connor Guyler
Daniel Mulller
Greg Baldock
Luka Leskovsek
Miyuki Tatsuda
Baptiste Audouin
Andres Talegon
MJ Cunha
Natalie Lacey
Oliver Goater
Vincenzo Meola
Wasim Ali
Adam Jackson
Robert Gittings
Charles-Henri Vidaud
Doug Winder
Dave Early
Simon Wicker
Pip Denver
Rod Mcfall
Jared Embley
Mark Ardisson
Joao Calisto
Bastien Mortelecque
Alice Pott
Miriam Guzman
Liam Paton
Lukas Povilonis
Tom Lempert
Liam Paton
Amy Felce
Jake Flint
Jude Waugh
Ritchie Hoyle
Ben Thomas
Davide Pitarella
Alex Papasozomenos
Miranda Kay
Jared Embley
John Cooper
Bradley Black
Nick Feldman
Unai Martínez Barredo
Matthieu Druaud
Ciaran Crowley
Andres Tollar
Joseph Courtis
Marie O'Brien
Rachel Hopson
Honor Martin
Chloe Begtine
Sarah Mason
Connor Guyler
Daniel Mulller
Greg Baldock
Luka Leskovsek
Miyuki Tatsuda
Baptiste Audouin
Andres Talegon
MJ Cunha
Natalie Lacey
Oliver Goater
Vincenzo Meola
Wasim Ali
Adam Jackson
Robert Gittings
Charles-Henri Vidaud
Doug Winder
Dave Early
Simon Wicker
Pip Denver
Rod Mcfall
Jared Embley
Mark Ardisson
Joao Calisto
Bastien Mortelecque
Alice Pott
Miriam Guzman
Liam Paton
Lukas Povilonis
Tom Lempert
Liam Paton
Amy Felce
Jake Flint
Jude Waugh
Ritchie Hoyle
Ben Thomas
Davide Pitarella
Alex Papasozomenos
Miranda Kay
Jared Embley
John Cooper
Bradley Black
Nick Feldman
Unai Martínez Barredo
Matthieu Druaud
Ciaran Crowley
Andres Tollar
Joseph Courtis
Marie O'Brien
Rachel Hopson
Honor Martin
Chloe Begtine
Sarah Mason
Connor Guyler
Daniel Mulller
Greg Baldock
Luka Leskovsek
Miyuki Tatsuda
Baptiste Audouin
Andres Talegon
MJ Cunha
Natalie Lacey
Oliver Goater
Vincenzo Meola
Wasim Ali
Adam Jackson
Robert Gittings
Charles-Henri Vidaud
Doug Winder
Dave Early
Simon Wicker
Pip Denver
Rod Mcfall
Jared Embley
Mark Ardisson
Joao Calisto
Bastien Mortelecque
Alice Pott
Miriam Guzman
Liam Paton
Lukas Povilonis
Tom Lempert
Liam Paton
Amy Felce
Jake Flint
Jude Waugh
Ritchie Hoyle
Ben Thomas
Davide Pitarella
Alex Papasozomenos
Miranda Kay
Jared Embley
John Cooper
Bradley Black
Nick Feldman
Unai Martínez Barredo
Matthieu Druaud
Ciaran Crowley
Andres Tollar
Joseph Courtis
Marie O'Brien
Rachel Hopson
Honor Martin
Chloe Begtine
Sarah Mason
Connor Guyler
Daniel Mulller
Greg Baldock
Luka Leskovsek
Miyuki Tatsuda
Baptiste Audouin
Andres Talegon
MJ Cunha
Natalie Lacey
Oliver Goater
Vincenzo Meola
Wasim Ali
Adam Jackson
Robert Gittings
Charles-Henri Vidaud
Doug Winder
Dave Early
Simon Wicker
Pip Denver
Rod Mcfall
Jared Embley
Mark Ardisson
Joao Calisto
Bastien Mortelecque
Alice Pott
Miriam Guzman
Liam Paton
Lukas Povilonis
Tom Lempert
Liam Paton
Amy Felce
Jake Flint
Jude Waugh
Ritchie Hoyle
Ben Thomas
Davide Pitarella
Alex Papasozomenos
Miranda Kay
Jared Embley
John Cooper
Bradley Black
Nick Feldman
Unai Martínez Barredo
Matthieu Druaud
Ciaran Crowley
Andres Tollar
Joseph Courtis
Marie O'Brien
Rachel Hopson
Honor Martin
Chloe Begtine
Sarah Mason
Connor Guyler
Daniel Mulller
Greg Baldock
Luka Leskovsek
Miyuki Tatsuda
Baptiste Audouin
Andres Talegon
MJ Cunha
Natalie Lacey
Oliver Goater
Vincenzo Meola
Wasim Ali
Adam Jackson
Robert Gittings
Charles-Henri Vidaud
Doug Winder
Dave Early
Simon Wicker
Pip Denver
Rod Mcfall
Jared Embley
Mark Ardisson
Joao Calisto
Bastien Mortelecque
Alice Pott
Miriam Guzman
Liam Paton
Lukas Povilonis
Tom Lempert
Liam Paton
Amy Felce
Jake Flint
Jude Waugh
Ritchie Hoyle
Ben Thomas
Davide Pitarella
Alex Papasozomenos
Miranda Kay
Jared Embley
John Cooper
Bradley Black
Nick Feldman
Unai Martínez Barredo
Matthieu Druaud